If you are reading this article, then you must be linked with the writing field. Many professional writers and bloggers are always in chaos for finding the best content writing tools.
Even students are in search of writing tools that could facilitate their academic work. You will find all such tools in this article.
Now that we are living in 2021, every student wants to earn their own money. Right? Finding full-time jobs is difficult for students.
Content writing could be a great deal for students to earn their own money as it does not require special coding skills.
You need to have good writing skills with good vocabulary. Content writing can give you a good amount of money if you learn the hidden strategies behind it.
In the next section, we are going to discuss some tools that every writer must know about. These tools offer 100% efficiency in their performance. If you want to explore them, keep on reading!
5 Recommended Content Writing Tools for You to Have in 2021
Trends.google.com
If you are working in an organization or a software house, you will be assigned the titles by your head to write content.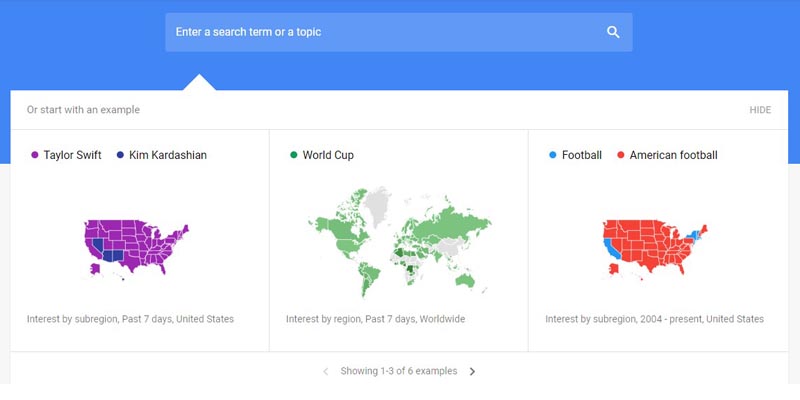 But if you are a blogger and running your own site, you must know how hard it is to find trending blogging ideas.
In today's world, content writing is all about SEO. Your content must and should be optimized enough to rank on a search engine.
A search engine is most likely to rank content, including trending keywords and phrases. There are plenty of tools available that will help you find those keywords, but most of them are paid.
Google Trend is a free tool that allows you to search for the most trending keywords for your content. Not just that, you can enter your keyword to look for the most search queries about that keyword.
You can sum up all those queries and keywords relevant to yours in your article. It will boost your chances of ranking on a search engine.
And the most fantastic thing is you can do all this for free. The process of using the tool is simple, go to the tool first.
There you will see a wide input field with an 'Enter a search term or topic' caption, and this is where you have to write a keyword you want to get an idea about.
Frase.io
A search engine optimized content ensures the chances of ranking on Google. If you want your content to be stand out on top search results, you need to make a little effort.
Frase allows you to do much more than to write. With this tool, you can create much better content and within no time.
It is an all-in-one tool for creating optimized content. With the tool, you can research hot trending keywords on the search engine, including long-tail keywords.
It allows writers to write their content that is best in quality and is search engine optimized. And to optimize your content, you can also compare it with your competitors.
The tool also provides content analytics, and it will bring new content opportunities for your blogging site and in no time.
Usually, it takes hours to perform all these steps in your content, but Frase claims to do all this in minutes instead of hours.
If you haven't used the tool before then, you can go for the seven-day free trial period. Once you get convinced by the tool efficiency, you can buy the tool subscription.
The tool comes in three variants 'Basic,' 'Team,' and 'Enterprise.' Visit their site to know more about pricing and buying process.
If you are familiar with how content writing works, you can agree with the statement that most of the time, writers need to include a portion directly from Google.
And sometimes from their top competitor's site. As we are talking about content in accordance to search engine ranking, Google never ranks duplicated content.
To save from such problems, writers use paraphrasing tools. Editpad's paraphrasing tool is one of the most widely used tools to generate paraphrased content.
This tool generates unique content with 100% efficiency by changing the sentence structure and replacing words with synonyms.
It aims at generating content that is free from plagiarism. Writers need to copy the source text and paste it on the input text area of the tool. After that, hit the blue button to start the process.
The interface of the tool is pretty user-friendly. You have to paste the source text on the left white box, and your output text will be displayed on the right white box.adver
The tool offers a multilingual feature, and you can create paraphrased content in more than one language with this tool. And you don't have to pay even a dime. Isn't it amazing?
Plagiarism is the most crucial factor in creating content that is up to search engine ranking standards. There are solid chances of content to rank on Google, which is plagiarism-free.
Prepostseo's plagiarism checker tool is free to use, and you can run your content on the tool to check if it is free of plagiarism or not.
The free variant of the tool allows you to run 1000 words at a time. If you want to run for words more than that and want no captcha to use the tool, you can go for the paid variants.
The tool checks the content by comparing it with the sources online. It takes up to a few seconds to generate the results.
If there is plagiarism in your text, the tool will make a red alert, and you can remove the plagiarism by viewing the sources.
To use the tool, go to the link attached and copy your original text. Paste the text on the white box and hit the button to start the process.
Wordcounter.net
Last but not least, writers and even students can consider this tool to generate content free of spelling and grammar mistakes.
The tool does not just operate for word count, but there are other promising features. You can use this tool as an edit pad.
If you don't have MS Word on your laptop or computer, go to the tool and start writing your content or assignment.
It will let you know the word count as well as the character count. It is essential to keep track of word count while writing the content.
It will help writers know how far are they from their goal, which is to complete the word count. With this tool, writers can create quality content according to search engine policies of content ranking.
Some tool features come in handy with the free variant; however, other features are paid, and you can unlock them only if you have a paid subscription.
Last Words
In a nutshell, we have discussed five tools that will help writers, bloggers, and students generate optimized content for the search engines with 100% efficiency.
If you want your assignments and research papers to complete in less time with quality work, give each tool a read make them in use practically.