From the most popular social networking site to a leading platform for business and brand promotions- Instagram has become the most preferred social media platform among individuals and entrepreneurs alike. Business owners are curious to know and follow the best metrics to grow their Instagram followers and engagements.
One of such metrics is INSTAGRAM FOLLOWERS VS FOLLOWING. This blog discusses these metrics in detail.
Introduction
The trending debate of Instagram Followers vs. Following holds great significance for your business marketing and branding. With Instagram, the Followers vs. Following Ratio is important as it speaks about the credibility and reputation of your account. The Follower to Following Ratio Instagram is occasionally called a Cool Ratio. Why do Followers count on Instagram? The people look at your Instagram ratio- if I have 1000 followers, then the people you follow should be lesser than 1000. Simply put, Instagram accounts with more followers than following tend to be the more popular/well-known ones. Wouldn't you rather prefer accounts having 20,000 Followers and 200 Following vs. 200 followers and 20,000 followings?
But then the real question is- Does your Instagram Ratio (Followers VS Following) matter? However, it is a status thing, yet it will affect your Instagram brand. So let's look at some facts:
Individuals, Business professionals, and influencers resort to Instagram for plenty of opportunities nowadays. Being the 6th most popular social media site with a global user base of over 1 billion active users, you can market your products and services to the right audience on Instagram. And the platform continues to grow. Companies and brands collaborate with influencers to promote and market their products and services innovatively.
7 out of 10 US or 71% of US businesses use Instagram for their business promotions.
81% of people use Instagram to search for products and services.
80% of Instagram Influencers have at least one business account in collaboration.
Marketing teams spend 29% of their marketing budget on Instagram ads. (source: sprout social)
50% of Instagram users follow at least one business brand.
In June 2018, users spent an average of 53 minutes per day on Instagram. (source: Oberlo)
Most popular social networks worldwide as of April 2021
So, it is obvious from the statistics that Instagram is a great platform for business promotions and brand building. Business owners can easily make a business account and follow best practices to gain more followers.
Let's first understand What is Instagram Following VS Follower Ratio. Also, what is the ideal Ratio?
What is Follow VS Following on Instagram?
Followers are the people who follow your Instagram account for seeing your photos, videos, and other information. They choose to follow you.
Following are the people and Instagram accounts you are interested in following. Next, you follow the accounts or hashtags.
The Instagram follower to following ratio is the ratio of your followers vs. the accounts you follow. However, if you have a personal account, then this Ratio doesn't hold any importance. For business and influencer accounts, it helps them gain more followers and engagements.
What does Your Follower Ratio Say About You?
How does the Follow vs. Following on Instagram Ratio work and impact your brand? The follower ratio gives an idea of the popularity and credibility of your account.
Let us look at both cases:
7000 Following 10000 Followers
Is it better to have more followers than people you're following on Instagram? Yes, it appears to be an ideal ratio. It gives an impression that this account has something that many people find interesting and worth following.
10000 Following 7000 Followers
People have a misconception that if they follow many, many more people, it will lead to more Followers. But that's not true. Such a ratio can not influence and attract new followers to your account.
Recommendation: You must have heard, Like, Comment, follow people who are more popular to get more followers? That's true. But you should know what people and accounts to follow. You have to get very relevant followers. So, make sure you Like, comment, and follow related to your business and within your industry. If people from your industry are following you, the Ratio of likes and comments will be way higher, and as a result, you get way more new followers.
What is the Ideal Instagram Following VS Followers Ratio
So what is the ideal Ratio? What should be my follower-to-following Ratio on Instagram as a business page? The ideal Ratio is when your number of followers exceeds the number of accounts you follow. A value above 1 means an account has more followers than they are following. The higher the number and the difference, the 'better.'
Instagram accounts with the most followers worldwide as of February 2021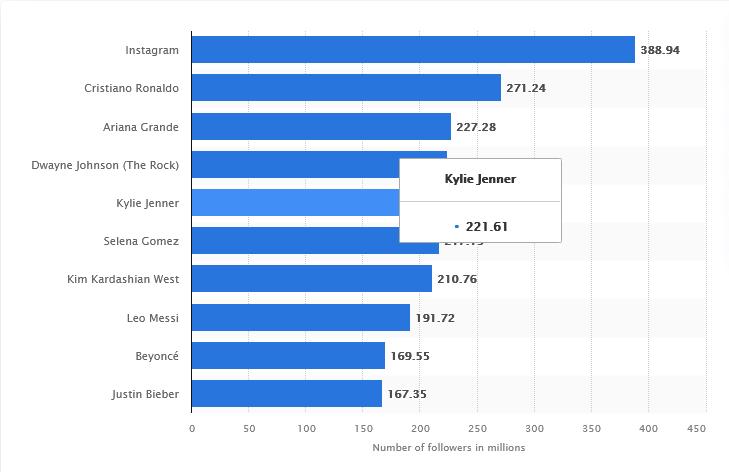 How to Calculate Your Instagram Follower to Following Ratio?
The standard formula to calculate your Instagram follower to following Ratio divides your number of followers by the number of people you follow.
For example, if you have 12,000 followers and you are following 1,000 accounts, then your Instagram follower to the following Ratio is:
10,000 followers / 1,000 following = 10
For every ten followers, you follow one account.
How do you achieve the Ideal Instagram Followers vs. the Following Ratio?
Want to monetize your Instagram business or influencer account? If you want to get the ideal followers vs. the following Ratio on Instagram, you need to use the best tricks and techniques to gain more organic popularity and followers. In addition, you can use the best Instagram followers apps.
Top 6 proven tips to gain more Instagram Followers
Follow these five magical tips to become Instafamous genuinely. These are the proven tips to accelerate your Instagram growth.
#Tip 1: Post Content consistently and at the right times
First, Create visually appealing and emotional content with which people can connect. Second, be consistent in posting your content. People are not on Instagram every single hour. Moreover, strong, consistent content helps followers to know you and your brand identity. So be consistent with your content.
You can schedule your content with the best times to post on social media. For example, weekday mornings and early afternoons.
#Tip 2: Follow the right people
Like, Comment, and follow people and accounts related to the business you are doing. For example, follow people within your industry. The Instagram algorithm looks at how many comments and likes you get on your published images. So, if people from the same industry follow, you get more likes and comments and new followers.
#Tip 3: Collaborate with other Influencers
You can collaborate with famous Instagram influencers. For example, you can run a giveaway or some offers asking people to repost and tag your content. With this, you get your followers and the followers of the Influencer as well.
#Tip 4: Optimize your Bio
The Bio should be clear and concise as it represents your brand identity and your work.
#Tip 5: Publish Stories
Publish Stories and new content regularly to remind people that you're regularly creating content.
#Tip 6: Use the Right Hashtags On Instagram, Posts with hashtags receive more comments and "Likes" than those without them. So, post your content with brand-specific hashtags to get more new followers.
Top 10 Instagram Follower Apps to get more Followers
Getting real followers on Instagram is not easy, especially starting from scratch. That's why we put together some useful follower apps for Instagram to help you gain Instagram followers initially. However, in the long run, to avoid getting fake followers, we recommend following the best practices and a complete package of Instagram tools to gain organic traffic.  The Instagram follower apps produce a list of potential Instagram followers and make them follow your account. The list depends on your niche, hashtags you use, and your interests. This way, you get your desired Instagram followers vs. following the ideal Ratio.
Want to find out which people you are following on Instagram do not follow you back?
Here is a list of the best Instagram Follower Apps:
My IG Followers
GainInsta
AirGrow
InstaInfluencer
Crowd Fire
Turbo Influencer
Social Cheap.
Get Instant Likes.
Instavast
Instarazzo.
Instagram Following vs. Followers Ratio FAQs
What is a good follower to following Ratio on Instagram?

A positive ratio shows an account has a higher number of followers than the number of users an account follows.

• A good follow ratio is 5:1 – for every five followers, only one following account.
• The average follow Ratio is 2:1 – for every two followers, you should follow at least one account.
• A bad follow ratio is 0.5 < 0 – for every follower following two or more accounts.
What accounts should I follow?
The decision of following back someone depends on the purpose of your Instagram account. Instead, follow people to create engagements and connections.
What does it mean if someone follows you on Instagram?

Following someone on Instagram means you can see their posts, and stories they update regularly. Additionally, you can send them a private direct message as well.
Conclusion
I hope now your idea on Followers VS following on Instagram is transparent. A positive Follower to the following Ratio makes a strong image of your brand or business. It is an important metric for Instagram Influencer marketing. To get higher traffic and business from your Instagram account, you must follow all the strategies properly. You can also hire a digital marketing strategist or company to help you better.
Connect with us for a free consultation on Instagram Influencer marketing and branding.