You uploaded a post on your Instagram feed, and now you are curious to know who shared your post? But, the question is, how to see who shared your Instagram story or post? 
We will get into the Step-By-Step details in this blog, so read till the end. 
Introduction
With 1 billion monthly active users, Instagram is the fastest growing social media platform. It is no more just a photo-sharing app but also a profitable marketplace for businesses to connect with customers, promote products and services, and build brand reputation. 
63% of people check Instagram at least once per day, while 42% open the app multiple times in a single day.
68% of people come to Instagram to connect with influencers or creators.
50% of IG users follow at least one business.
According to a study by Forbes– a majority of companies spend around $25,000 to $100,000 on Influencer Marketing each year. And the number is growing up.
Out of 1 billion, a whopping 500 million people use Instagram stories daily. And with the launch of Reshares feature by Instagram, people share posts and feeds they like on their Instagram stories.
But the big question is still intact- how can I see who shared my Instagram post? Well, yes, you can see who shared your photos on their Instagram story or post.
Why is this important?
Not just out of curiosity, but keeping an insight into your post shares, likes, and dislikes is essential to growing your audience and business as well. Simply, to increase Instagram engagement and thus enhance your Instagram followers. It also helps them maintain the Instagram Followers VS Following ideal ratio to maintain Instagram account's reputation. 
The Instagram algorithm loves shares. So when you share and save content, it sends alerts to Instagram that this is a good piece of content. 
You are at the forefront of your potential visitor, which you hope to turn into a follower and then a customer. A shared or saved content means you've sparked interest in them and given them some value.
What are the steps to see who shared your post on Instagram Story?
Before we get into the steps, let me tell you, to view insights and figure out who or what posts are being shared or saved, you need a business account. And you can easily switch from personal to a business or a creator account.
Just open your Instagram profile settings, choose "Account," and tap "Switch to business account" or "Switch to Creator Account."
Also, the person who shares the post (sharer's account) should also have a business or professional account.
Note: There are a few conditions when you can see who shared your post. If those conditions are not true, you will not see the option "View Reshare" mentioned in the steps below. 
We have mentioned those conditions in the FAQ section below. 
Now let's check out the steps in detail.
Step 1: Open any Post. Click on the three-dot icon on the side.
Step 2: Click on View Story Reshares.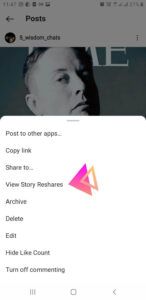 Step 3: The page showing all the current public Reshares will appear.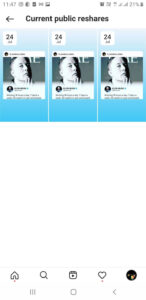 Step 4: You can check the name of the person who shared your post.
Frequently Asked Questions: [FAQ]
#1. What if the "Story Reshares" option is missing?
There are a couple of reasons you are missing out on this option.
If your post has 0 reshares, this option disappears. It is because no one shared your post, even atleast a single time.
If the sharer's account is private.
The Reshare option expires after 24 hours.
So, if you do not see it anymore, it probably passed the 24 hours since someone reshared.
#2. How to ensure whether someone shared my post or not?
You can click on the "View Insights" option to check the number of times anyone shared your post.
You can also see the "number of people" or how many people saved your post.
Note: Only if the person who shared your post on the story has a business or professional account, then only it will count as shares, else the count will remain zero.
You can also see the "number of people" or how many people saved your post.
How to see all the Instagram posts that mentioned you?
Instagram has this #Regram trend where people share posts of other famous or business accounts to gain increased user following. However, they tag the original version to avoid copyrighting.
Yet, many share the posts and pictures of popular business brands like cosmetics, fashion, etc., by just mentioning the name in the caption. So, to keep track of all such shares, you can use third-party Instagram management apps.
Third-Party Apps to see who shared your Instagram Post
The third-party Instagram management apps offer many tools such as an intelligent scheduler, a Bio-Link tool, and many others. The feature "Repost Mention" can help you track all the people who shared your post.
Top 5 Instagram Scheduling Apps
AiSchedule
Loomly
Apphi
Hopper HQ
eClincher
Top 10 Instagram Management Apps
Iconosquare.
Snapseed.
VSCO.
Life Lapse.
5 InShot.
FilmoraGo.
Layout from Instagram.
Spark Post.
Top Instagram Analytics Apps
Squarelovin
Pixlee
Crowdfire
Later
Minter.io
Smart metrics
Hootsuite
Union Metrics
Conclusion
I hope now you know how to see who shared your Instagram posts. Instagram is the most trending and dominating social media platform currently. Reposting or Regramming among Instagrammers is the way people connect on Instagram. Billions of likes, comments, saves, and stories are handed out each day.
Keeping an eye on who is interested in your content and tracking the right metrics can help you make better marketing plans. First, you get an idea of how your Instagram marketing efforts are paying off. Besides, you get to know the popularity of your account.
If you need help promoting and branding your Instagram account, reach out to us.