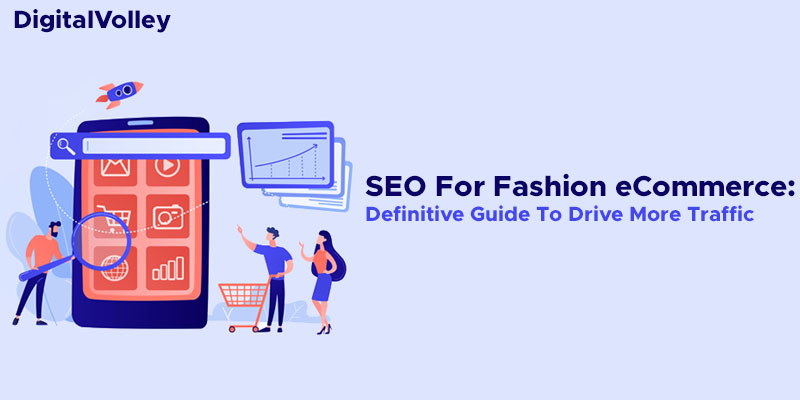 Quick Summary: Are you a business owner dealing in fashion eCommerce? Then, you might be aware of the importance of SEO for your eCommerce site, right? In this article, we'll be showing you top-notch tips to conduct SEO for fashion eCommerce sites and thrive your business. 
The fashion industry is one of the most competitive industries in the world, and keeping ahead of the curve will require an intensive strategy. You may get flabbergasted to know that every business strives hard to thrive their business, hence, you should follow something different.
In this crowded marketplace, your eCommerce website must be visible on SERPs to outperform this fierce competition so that more and more customers can shop from you. Hence, we've come up with the top 8 pro tips for SEO for eCommerce websites that'll help you for the same.
Let's dig deeper!
SEO For eCommerce: A Brief Introduction
In short, SEO for eCommerce websites is the process used to optimize an eCommerce site with the intent to rank it higher on SERPs. The upper rank of your site on the SERPs drives more traffic to your website and engages customers to buy your product.
There are various factors like quality and relevance of the content, appropriate placement of keywords, site loading time, and many others that determine how well a website will perform on search engines.
What's The Need of SEO For eCommerce Websites?
The fashion industry is one of the most competitive industries online. If you're willing to succeed in this industry, you need to keep your website visible to your target customers. In order to do so, you've to perform SEO for your eCommerce website. It'll help your site rank higher and be visible to visitors so that they can come to your site and buy your products.
Advantages Of SEO For eCommerce Websites
However, there are numerous advantages of SEO for fashion e-commerce, here are some of the important ones that you should focus on.
It helps your website rank higher on search engines.
It assists you in accelerating traffic.
Helps you stand out from the competition.
Builds trust and credibility for your website and business.
Streamlines sales, and a lot more.
Improve brand awareness
Growing remarketing audiences
Generate Quality Traffic
Cut down paid search costs
Increasing Sales
Local SEO can Attract Local Customers
Top 8 Proven SEO Tips for Fashion eCommerce Websites
As we conducted a detailed exploration of various aspects of SEO for eCommerce websites, and its advantages, now are the time we explored the top SEO tips. Here are the top 8 SEO tips for eCommerce sites that you can use to improve your ranking and boost traffic.
Build An User-Friendly Website
When it comes to SEO for an eCommerce website, user-friendliness is of utmost importance. When a site is user-friendly, customers face no issues while browsing through and buying things. It helps you keep your visitors engaged and drives more sales of your products.
Besides, when users spend more time on your site, it gives search engines like Google a positive signal and helps them to recognize your website as relevant and beneficial for visitors. This results in a better rank of your page on SERPs, improved traffic, increased customers, and boost sales.
Optimized Speed— The speed of a website is one of the significant ranking factors. A site with great speed and performance will help your customers browse through your page with no hassle and find hundreds and thousands of products. Hence consider keeping your website's speed faster.
Attractive Look & Feel— A website that's not attractive enough fails to grab visitors' attention, and engage them for a long time resulting in losing customers. Therefore, design your website with appealing colors, and attractive fonts and make it attention-grabbing.
Organized Product Pages— Keep your product pages easy to navigate. When you have your product pages convenient to browse through and navigate, customers are more likely to spend more time on your site and buy products from you.
Clear & Visible CTA (call to action)— When you have a visible, clear CTA, it helps your customers make decisions effortlessly, therefore, keep the CTA highlighted and visible.
Proper Website Color Theme— Proper color and theme can also do miracles in terms of enhancing the user's experience. Therefore, keep your website's theme and color attractive enough.
Read Also: Digital Marketing for Small Businesses: Strategies and Tips
Ensure Seamless Navigation
Another essential component of SEO for fashion e-commerce is seamless navigation. When a user comes to your website they want to find their desired products conveniently and if the website navigation is smooth, they'll get a better user experience. On the contrary, if a site has poor navigation, the users are more likely to leave the site.
Therefore, you need to keep your website's navigation straightforward. The eCommerce category content must be organized well mannerly to make it convenient for your visitors to find products in no time.
Keep Your eCommerce Site Mobile-Friendly
The proliferation in the use of mobile devices has a lot to do with your eCommerce website SEO too. 67% of people state that if they visit a mobile-friendly website they are likely to shop from the same site. Whether it's purchasing products or searching for trending clothes, almost every activity of our day-to-day lives is being done using mobile devices.
Consider making your website mobile-friendly so that users have ease while browsing through your eCommerce website. Besides, it'll optimize your page and enable it to be crawled by Google's mobile-first indexing.
Use High-Quality Visuals
Making use of high-quality visuals is another SEO strategy for eCommerce websites. Visual representation of your products on the site has a massive influence on your sales and business. When you have high-end, dynamic visuals, users get a kind of trust and prefer purchasing from your site.
Furthermore, the visuals must be detailed to give users a reliable visual experience.
Start Fashion Related Blogging
Another SEO strategy for fashion eCommerce is blogging. People tend to constantly search for products, fashion tips, and so on using Google before they buy any product. You can attract a massive number of customers and keep them engaged on your website by offering them uninterrupted information via blogs.
Following this way you can talk to your customer while marketing your products and providing information and increasing the chances for them to make a purchase.
Utilize Analytics or Heat Map Tools
When you implement SEO for an e-commerce website, you need to assess whether it works or not. Yes, no matter if your sales are high, it can't be the perfect measurement of whether your SEO strategy is working or not—there's always room for improvement. You can use analytics and heat tools to get all the details and see if there's any space to improve.
For instance, you can use heat map tools like HotJar to generate heat maps and measure the number of clicks on different sections of your webpage. Once you have all the information, you can use it to enhance your website.
Optimize Your Site with Relevant Keywords
Keywords are the words, or phrases that users use while searching for any product or service. To drive more traffic to your website, you need to find the right keywords and apply them to your website's content so the search engine finds your website and shows it to the users as relevant search results.
If you put irrelevant keywords, it'll distract your users from the website, and you'll be more likely to rank lower in search engines. Follow keyword research and place keywords that match your products. Besides, consider applying long tail keywords– as they have less traffic and more chances to rank your website.
Keep Your Website Updated
Maintenance is a crucial element when it comes to SEO for fashion e-commerce. An eCommerce site deals with various sensitive client information, like credit card details, and many others. Therefore, you must be aware of the common website's vulnerabilities to ensure you follow all the measures and keep them at bay.
Keep the website updated as a top priority when you perform SEO for an e-commerce site.
Things to Avoid When Conducting Seo for an eCommerce Website?
Now that you know how to do SEO for an e-commerce website, let's know what to avoid while doing the same. Here are some of the things you need to avoid. Look at them.
Having several sitemaps.
Uploading plagiarized and duplicated content.
Inappropriate keyword stuffing.
Not making the eCommerce site user-friendly.
Not making your fashion eCommerce website mobile-friendly.
Avoiding constant updates.
Not fastening the website's loading time.
Not creating blogs for your eCommerce website.
Wrapping Up!
For any business owner dealing in the fashion industry, it's essential to perform an SEO strategy to keep their page on the top of SERPs, attract and engage visitors, transform them into prospective buyers and increase overall sales.
It plays a vital role in making more profits and taking the business to the next level. We've put everything important in this article, hence, you need to get the information you need and put them into practice to squeeze amazing outcomes.
However, having been through this comprehensive as well as informative article you may not have any questions left to answer, if you need any assistance, contact our experts, they are always there to support you with appropriate solutions.
FAQs on SEO For Fashion eCommerce
What is SEO in fashion?
SEO for fashion e-commerce is a process of optimizing your fashion eCommerce website so that it can appear on the top of SERPs. It makes your website visible and helps you show your products to your customers so that most of them can buy from your site.
How do I SEO for an eCommerce website?
However, there are numerous factors involved when it comes to performing SEO for your website, some of them are appropriate keyword placement, keeping speed perfect, constant updates, and so on. You need to hire an SEO expert for your eCommerce website.
Why is SEO important in fashion eCommerce?
Here are some of the reasons why SEO is important in fashion eCommerce.
It assists you to bring your site to the top of SERPs.
Make your products visible to customers.
Bridges the gap between your product and customers.
Enhances engagements and boosts sales.
Is SEO worth it for eCommerce?
Yes, SEO has the potential to make your website rank on search engines, enhance visibility, and drive more traffic to your eCommerce website which results in increased sales and elephantine business growth.
If I start writing a fashion blog, how soon can I expect to see results?
However it can vary, in general, it takes from 3 to 6 months to see the result when you start blogging. In some cases, it may take even a year and some more to see results. Just have patience and work on it, you'll see results.