If you don't know how to check the ranking of your YouTube videos, we are here with this blog to inform you about some of the best YouTube video rank checker tools. Some of the tools are free, while others are paid. So, let's dive in and find the details of the top YouTube rank checker tools for 2022.
Introduction
According to Oberlo, Youtube is the second most popular social media platform with over 2 billion active monthly users. Secondly, people worldwide watch 1 billion hours of youtube videos each day.
From the above facts, it is clear how popular and impactful Youtube is. If you are someone who regularly posts videos on Youtube for marketing or a company posting each day for brand awareness, Youtube ranking is of significant importance for you.
You have created good quality content and posted it; now, you want to analyze how your content performs on Youtube. The higher the ranking of the Youtube video, the better it is.
To check the ranking of your Youtube videos, you need Youtube rank checker tools.
So, let's look at the top Youtube rank tracking tools in 2022.
Top 4 Youtube Rank Tracker Tools 2022
AccuRanker YouTube Tracker:
Accuranker is one of the most popular cloud-based YouTube video rank checker tools. It is a perfect tool for beginners who have just started on Youtube.
The tool has a friendly interface and offers a free trial too. With Accuranker Youtube rank tracker, you can track your position on YouTube, Google, and Bing.
To check your Youtube Video rank using Accuranker, follow these steps:
Step 1: Create an account on Accuranker and add your Youtube channel.
Step 2: Add your YouTube channel URL (ID) to start tracking keywords. You can copy-paste your YouTube channel ID from here.
Step 3: Add Keywords to Accuranker on which you think or want your Youtube video should rank.
Step 4: If you want to find popular keywords for your Youtube videos, you can use Studio.youtube.com. You can find a list of keywords for your Youtube channel.
After adding the keywords, AccuRanker will find the exact ranking of your YouTube videos. The tool lets you see the performance of your competitors. Thus, you can compare your video ranking with your competitors.
Tubebuddy
Tubebuddy is another powerful Youtube Video tracking tool. The tool offers both free and paid versions. Desktop users can install the Tubebuddy browser extension that users can use to find their ranking positions.
Tubebuddy is a complete SEO tool to help you improve your content quality and, thus, Youtube ranking.
Using Tubebuddy, you can easily find high-performing video topics and keywords. You can also create titles and tags on Tubebuddy.
To check your Youtube video rank on Tubebuddy, follow these steps:
Step 1: First, you have to download the Tubebuddy chrome extension.
Step 2: Log in to the Tubebuddy dashboard.
Step 3: Click on search rank tracking, then click on Keywords to track.
Step 4: Add the keywords that you want to track for your Youtube videos.
After adding keywords, click on "Ranking reports." You will be able to see the list of your videos ranking on the particular keywords.
You can use advanced features of the Youtube video rank checker in Tubebuddy by upgrading to a paid subscription. It comes with three plans- Pro, Star, and Legend.
You can also use the report scheduling feature by Tubebuddy, which sends weekly and monthly reports via email.
VidIQ Review
VidIQ is another excellent option to check your Youtube rankings. It is an all-in-one tool to track your Youtube videos' ranking, SEO, and performance.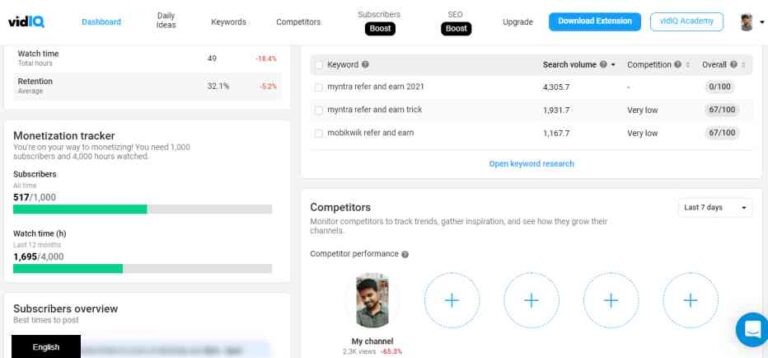 VidIQ also offers both free and paid versions. The tool offers three subscription plans- Pro, Boost, and Boost+. Basic is the free version with enough features for beginners.
The browser extension of VidIQ offers Video Scorecard, Live Stats Bar, and Basic Video Analytics freely.
YTRank tool
YTRank is a free YouTube Rank Checker Tool to check your existing YouTube Video Rankings.
To track your Youtube rankings, follow these steps:
Enter the Youtube Video URL in the YTRank tool. Add the keywords for which you want to check the ranking. Then, choose the country. You can add up to a maximum of 6 keywords.
YTRank will show on which page and on which position your video is ranking.
FAQ: YouTube Video Rank Checker
Why should I use keywords in my YouTube videos?
Searchable and popular keywords help you rank your Youtube videos on top. You can add keywords to the video title, tags, and description. Using proper keywords can get higher ranks for your Youtube videos quickly.
How can I check my YouTube video ranking?
Youtube tracking tools help you check your YouTube Videos rankings. You can use both free and paid third-party tools. For example, TubeBuddy, VidIQ, AccuRanker, etc. You can also improve your Youtube Video SEO using these tools. As some tools help you find popular topics and keywords for your videos.
What are the ways to rank up YouTube videos in 2022?
First, you should understand your users' choices and interests. Based on that, choose a vital topic. Create good quality video content on the topic, including information that satisfies user needs. Next, use proper keywords in the title, tags, and meta descriptions.
Conclusion: Best YouTube Video Rank Tracking Tool
So, these are the top 4 YouTube Video Rank Checker Tools for 2022. If you have just begun posting on Youtube or don't have enough budget, you can use free Youtube rank checker tools.
But if you run multiple channels or post daily and have a huge fanbase, you can easily afford paid Youtube video rank tracking tools. For example, you can check your video rankings along with proper SEO, Keyword research with paid tools like Ahrefs, SemRush, AccuRanker, etc.
If your videos rank at the top, you can get more followers for your channel. Keywords are essential, but first, you should focus on creating excellent quality content for your followers. Then using the right set of keywords bring your valuable videos in front of people.