Are you looking for help with your Instagram Account Management? But aren't sure how to hire an Instagram Accounts Manager? Then this blog is a guide for you.
With 520 million followers worldwide, Instagram is the fastest-growing social media platform today. As a result, every business is getting attracted to this social media platform.
If you do not have the expertise or the time to manage the required Instagram operations, hiring a top Instagram Manager would be in your best interests. Employing the most vibrant Instagram Manager would propel your product or service and attract new customers.
An Instagram Manager can manage your Instagram endeavours, scheduling the required updates, edit your photos and do a host of other activities.
This blog will break down the various skills and responsibilities of an Instagram Manager you should consider before hiring. We will also catch what they do and when is exactly the right time to hire one?
Why Hire an Instagram Manager?
The first thing you need to think about before hiring a social media manager or specifically an Instagram Manager for your business is what you need help with? Ask yourself the following questions
What are you struggling with?
Do you need someone to take over your entire Instagram footprint?
Do you need someone to manage your Instagram profile and create content for you?
By clearly defining what you need help with and what level of help you need, you'll be able to find the right Instagram Accounts manager for you.
What Do You Need Help With?
You should be clear on the things and expectations from an Instagram Manager.
Business Goals:
Decide on your goals and what you need help with before looking into hiring. And if you're starting in your business and you're not sure what you need help with or where it would help if you put your marketing efforts in, consider hire Instagram Manager who can also help you.
He can do a complete audit of your digital footprint and come up with a strategy for you. So that you know what you need to change in your business and what the next steps should be when it comes to your marketing strategy.
Budget:
Once you know what you need help with and what level of help you need, you need to decide on a budget. Every time you talk with an Instagram Accounts manager, they're most likely going to ask you about your budget. Every single Instagram Manager will have a different price range depending on their experience and what exactly they handle for you.
Skills to Consider Before Hiring an Instagram Accounts Manager.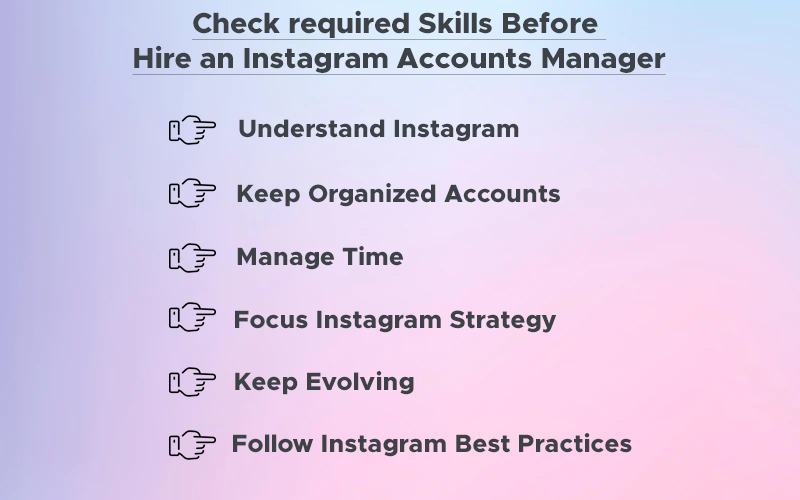 To hire a top Instagram Accounts Manager for your business, you must know precisely- what can they do to manage and grow your business.
As running a social media platform like Instagram, many elements and efforts go behind it. So, hiring an effective Instagram manager is a must for success. So, what describes a top Instagram manager?
As we mentioned earlier, there's a huge variety in what best Instagram managers do. So let us have a look at all the responsibilities and skills an Instagram Accounts Manager should possess in detail:
Understand Instagram
Keep Your Instagram Accounts Organized
Manage Time
Focus On Instagram Strategy and Value
Follow Instagram Best Practices
Keep Evolving
Understand Instagram
An effective Instagram Accounts Manager must understand the way Instagram works- from the algorithm to all the creative modes. In addition, they should know all the ins and outs of the platform.
We have listed the essential elements of Instagram that a successful Instagram manager should understand and manage for you. It will help you choose the right Manager with the right qualifications.
Create and Optimize Instagram Account
Create Content
Provider Strategy
Create a Content Calendar
Post Consistently
Brand Managemen
Provide Analytics
Create and Optimize Instagram Account
They should create the profile for you on Instagram, and if you already have the profile set up, they will audit them, making sure that they're fully optimized to their full potential.
Your username
Proper hashtags
The cohesiveness of your feed and much more.
Create Content
Depending on your business goals and plan, the Instagram Manager should create content for you. It saves a lot of time, and it helps you create strategic content that your ideal client is looking for.
Provider Strategy
For a business owner not experienced in marketing, it can seem not easy with so many different options online and so many different marketing strategies. It's hard to know what the right one
would be for your business. So by hiring a top Instagram Accounts manager, they help you assess and decide what the best strategies would be for your business.
Create a Content Calendar
Now, this is something that every Instagram Manager should do for every single client. So that they know what they are posting monthly, it also helps them have approval over the final that goes out to their audience.
So usually, the Manager should create content a month ahead of time and provide the calendar for approval about two weeks before posting.
Post Consistently
For a busy business owner, it's hard to remember to post consistently every single day. And this is where the bulk of an Instagram Accounts manager's tasks are going to go. They should make sure to post content consistently.
Brand Management
An Instagram manager should always think about things from your brand perspective. Every brand has its unique elements and demands, and your Instagram manager should understand that unique vision. Only then they can offer you valuable growth as a brand and a consistent brand image.
When we talk about brand management, it consists of quite a few different things. It means:
Managing your brand
Managing the comments
Managing your audience
Any direct messages
Review your posts
Review your external links
Responding to any negative comments or
Getting back to any potential clients about setting up a call
Any technical problems with your account.
Provide Analytics
Analytics is a significant thing to keep an eye on monthly. By knowing what your analytics say, you're going to learn a lot about your audience and your content.
You get to learn who your audience is- are they male, or are they primarily female?
Do they come in a specific age range that is attracted to your content?
What hashtags did the best, or which posts performed the best? Which one got the most reached?
Which one got the most engagement? Which one gave you the most ROI?
It's essential to look at the analytics to see if that piece of content is driving traffic. So those are the most common things that most expert social media managers will provide for you in their services.
Keep Your Instagram Accounts Organized
To survive on Instagram, you must know how to manage and organize multiple accounts. For effective scheduling and organization, a top Instagram Accounts Manager should be well-versed with popular Instagram tools.
In addition, the Instagram manager should collaborate with multiple stakeholders: clients, photographers, videographers, copywriters, and brand managers. They should manage the vast influx of information and organize it.
They can use excellent tools like Trello and Later to plan, schedule all posts and manage content. Slack and Monday to keep communications organized and share necessary files and documents.
Manage and Save Your Time
For an effective Instagram manager, time management is everything to thrive in the industry. They should balance and organize their time and give the necessary attention to each element of your Instagram profile.
The most effective and proven method to manage the workflow is doing batch work. Instagram Managers for hire should divide multiple tasks into batches of a day or week. It helps them stay organized and creative as well.
Popular tools like Trello, Buffer, Later, Slack help them save a lot of time. These tools help plan and schedule content in advance and thus saves plenty of valuable time.
Focus On Instagram Strategy and Value
To achieve success on Instagram, the top Instagram Manager should understand the Instagram Strategy and algorithms. They should plan and create their content based on the Instagram Strategy.
It takes time to create a successful Instagram campaign. The Instagram Accounts Manager should focus on creating a solid strategy to make their content succeed.
Instagram Managers should value Strategy at the forefront of everything they do. Every Instagram post should be optimized and follow a purposeful strategy.
The best Instagram Strategy is to follow Instagram Best Practices.
Know more:Instagram Followers VS Following
Follow Instagram Best Practices
The best Instagram Practices include:
Engaging with other profiles.
Making connections.
Using many hashtags.
Knowing your ideal customers.
# Know Your Ideal Customer:
An effective Instagram Accounts Manager should research the ideal customers for your business. Then, create and provide content that your ideal customer will be looking for.
# Post on Peak Time
Create the content at the right time to attract your ideal customer. Also, spend 15 minutes before and 15 minutes after posts to bring new profiles to your content.
# Hashtags
Hashtags are an indispensable part of your Instagram content. The top Instagram Manager you hire should know the right way to use them.
He should use the correct number and size of hashtags. You can use up to 30 hashtags. They should use hashtags specific to your business niche. They should research and identify successful hashtags by studying competitors.
Keep Evolving
Instagram is constantly evolving, and an efficient Instagram Accounts Manager should also evolve with it. He should keep on adding new skills and experience to his profile for effective solutions and the successful growth of clients.
Conclusion
It's time to start interviewing Instagram Accounts Managers for your business now. Be clear about your needs and expectations from an Instagram Manager, your budget, and relevant skills.
For most brands, Instagram is about connecting directly to various consumers and potential buyers. With such a large user base, Instagram can help you promote your brand easily. If you need help hiring a top Instagram Manager or growing your Instagram account, we can help you out.
Frequently Asked Questions
Why should you hire an Instagram Accounts Manager?
An Instagram Accounts Manager ensures your Instagram accounts and brings growth. They make sure there is a strategy in place, your content is meaningful and relevant for your audience. An effective Instagram Manager creates brand awareness and establishes your business as an expert.
What do Instagram Accounts Managers do?
They create and post videos and images, monitor and respond to audience comments, manage social media collaborations with other brands. They also make strategies and execute digital marketing campaigns. Also, analyze the data results from those campaigns.
What are the popular Instagram Management Softwares and tools?
The top Instagram Management Software are:
Buffer
Later
Trello
HootSuite
Slack
SproutSocial